Bariatric Care.
By all measures we are becoming a more obese people:
| | |
| --- | --- |
| | Almost 1/4th of the population can be classified as obese |
| | The prevalence of obesity is increasing at an alarming rate (Centers for Disease Control and Prevention) |
| | 1 in 80 men, and 1 in 200 women, weigh in excess of 300 pounds (Wall Street Journal) |
If you are managing obese patients in your facility, you face the challenges of ensuring the comfort of the resident while, at the same time, protecting the staff against handling-related injuries. Meeting these challenges require the use of specialized equipment – bariatric equipment – designed to meet the size and weight requirements of the obese resident.
In order to address the patient and staff issues, multiple pieces of equipment – a solution – has to be employed in the care of the obese patient. As in most other things, one size does not fit all in the care of the obese. MedSTAR Medical offers a number of solutions tailored to the size and weight requirements of the resident.
Click on a Selection Below for Further Information on Bariatric Care.
top ˆ
Invacare BAR600
– a heavy-duty bed frame that is designed for bariatric individuals and is capable of supporting up to 600 pounds. Extra bracing has been integrated into the home care bed frame, along with a wider surface and truss assembly, in order to provide maximum support. The client or caregiver is able to operate the bed using the hand pendant, which changes the positioning of the head and foot sections as well as the bed-height function. And, even though this is a substantial bed, setup within the home is easy.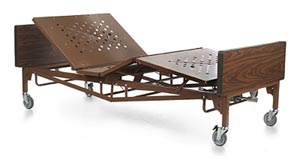 top ˆ
Big Boyz QP600
– a bariatric bed rated to 600 lbs that converts from 38" by 80" to 48" by 80". In the low position the bed stands at 15.5 inches; at the high position, it stands at 24.5 inches.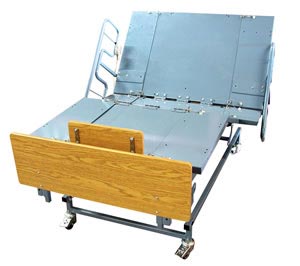 top ˆ
Bariatric Low Air Loss Patriot
- Lightweight and compact. Easy to store and transport.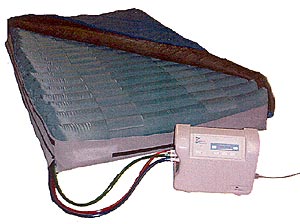 8" of true low air loss support, 3 pressure zones
20 individual nylon, urethane reinforced air cells
4 way stretch top cover with quilted liner providing a low shear, low friction vapor permeable surface
Exceptionally quiet, user friendly control unit
Up to 1,000 lbs. weight capacity
top ˆ
Invacare's Bariatric Trapeze
- designed to assist individuals weighing up to 600 pounds in changing positions while in bed and aid in transfering in and out of bed. In addition to providing maximum support and comfort, this innovative, lightweight, tool-free design makes delivery and assembly simple.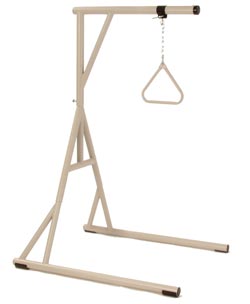 top ˆ
Invacare Reliant 600 Lift
- Designed to meet the special needs of your patients weighing up to 600 lbs., the Invacare Reliant 600 is a secure and sturdy lift.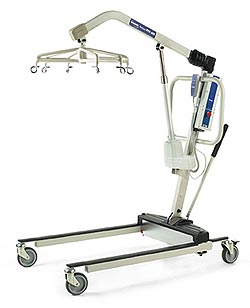 Base legs adjust easily and lock securely into open position with the padded shifter handle.
Extra wide coated swivel bar with 360 degree rotation and six-point hook-up.
High lift range allows transfer to high surfaces.
Manual lowering for instant response to power loss.
Safety-tested with CE mark for highest quality standards.
Essential device for safe patient handling in hospitals and LTC (long-term care) facilities
Total pinch-point protection covers all moving parts for added safety.

top ˆ
Invacare Reliant Digital Scale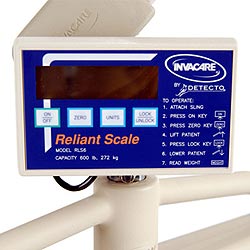 Precision scale mounted on swivel bar accurately measures weights up to 600 lb.
Easy to operate, 4-button display
Automatic shut-off feature prolongs battery life

top ˆ
Wheelchair Model 397
- This super heavy duty Tuffy Super Extra Wide 397 wheelchair is specially engineered for larger individuals who seek super extra heavy duty support and maximum durability. With high strength construction and extra reinforcement, it supports patient weights up to 650 lbs.

top ˆ
Wheelchair Model 497
- The Tuffy Extra Wide Recliner 497 offers both maximum durability and comfort for larger individuals who seek long-term rehabilitation. It has a reinforced alloy steel construction to support patient weights up to 420lbs. With its heavy duty hydraulic assist reclining mechanism, lifting patients from a reclining position has never been easier.