Fall Risk Abatement.
According to the National Center for Injury Prevention and Control, typical 100-bed nursing homes report between 100 and 200 falls per year. Of these falls, approximately 1,800 result in the death of the resident and 10% to 20% cause serious injury.
Falls occur more often in nursing home residents than the general population because the nursing home resident tends to be less robust than seniors living outside of facilities. There are a variety of reasons for falls but environmental hazards, such as lack of bed rails and improper bed height, contribute to between 16% and 27% of all falls.
MedSTAR Medical's offerings in this area are focused on reducing the incidence and severity of bed-related falls. We offer a Full Electric Low Bed, which, at its lowest height, is only 7 ¾ inches from the floor; a Perimeter Guard Mattress which is designed to prevent patient "roll off' when the rails are down; and a Soft Fall Bedside Mat which further reduces the distance between bed and floor and cushions the impact in the event that a patient does roll off the bed.
Click on a Selection Below for Further Information on Fall Risk Abatement.
top ˆ
Basic American Full Electric Lo Max Bed
– Fixed height low beds present a challenge when changing the linen or lifting a resident out of bed. For those applications which require a low bed, the Lo Max, allows the resident or caregiver to raise or lower the bed to a height which best fits the specific application.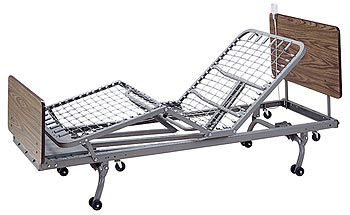 Lo Max features include:
The ability to raise or lower the bed with ease using a standard pendant control
Sleep surface adjustable from 7 ¾" to 16¾"
400-lb surface capacity
3-inch locking casters
Head articulation of 80 degrees; foot/knee articulation of 45 degrees

top ˆ
Skil-Care Perimeter-Guard Mattress

- prevents resident "roll-off" when the bed rails are lowered.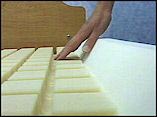 Pressure-Check™ foam with sections that adjkust individually to distribute weight and relieve interface pressure
Ultra-soft heel zone that lowers pressure for sensitive heels
High-density bottom layer of compression-resistant foam for support, weight distribution, and extended mattress life
top ˆ
Skil-Care Soft-Fall Bedside Mat
- This high-density, 4-inch, vinyl-covered foam mat provides extra protection against fall-related injuries. A slip-resistant bottom keeps the mat firmly in place.