Patient Positioning and Handling.
Manually lifting, transferring, or repositioning patients can place the long-term care (LTC) facility staff at risk for musculoskeletal disorders such as low back pain, sciatica and rotator cuff injury. Factors contributing to the risk are:
| | |
| --- | --- |
| | Patient weight |
| | Patient characteristics |
| | Awkward posture and positioning |
| | Environmental factors |
This risk has implications for the LTC provider ranging from lost work days, at the low end, to suits brought about as a result of injury to staff or patient.
This risk can be reduced, and staff morale improved, through the utilization of "assistive" patient handling devices suac as electric beds, lifts and trapezes.
MedSTAR has a variety of vendor offerings in this area, including the Invacare IVC Electric bed, Reliant Plus Lift and Floor Standing Trapeze.
Click on a Selection Below for Further Information on Patient Positioning and Handling.
top ˆ
Invacare IVC Home Beds
- Available in both full- and semi-electric configurations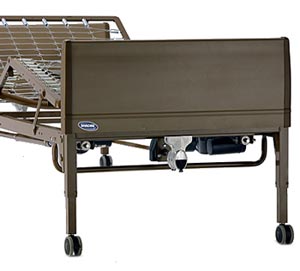 top ˆ
Offset Trapeze Bar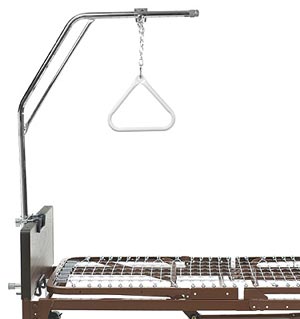 An important patient room accessory designed to help patients change positions while in bed, and aid in the transfer from bed to chairs with minimum attendant assistance. Invacare trapeze units have a wide range of height adjustments and handbar positions to maximize patient accessibility. The unit can be installed quickly and easily on an Invacare floor stand or on any Invacare Home Care bed end. Features include:
Heavy-gauged octagon-steel construction
Nylon coating ensures a secure grip on handbar
Wall bumpers and padded mounting brackets protect bed ends and wall surfaces
For use on 7714 floor stand or on any Invacare home care bed end

top ˆ
Invacare Reliant Plus Lifts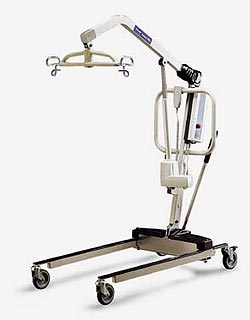 The Invacare line of Reliant Plus lifts was conceived to prevent caregiver back injury and to ensure dignity in patient handling. These high-quality lifts are comfortable, reliable and an integral tool for staff and caregivers. Using the lift for patient handling reduces staff injuries, saving you money and reinforcing safety as a priority in your healthcare facility. Reliant Plus lifts support up to 450 pounds, making potentially challenging transfers smooth for resident and caregiver. The new higher lift range allows easy access to beds, chairs, toilets, floors, and tubs (with at least 4.5in clearance
Electronic system includes two 24-volt batteries: one for lift, one for battery-charging station; a manual emergency lowering device, and anti-entrapment if boom meets any resistance while lowering.
Height range allows lifting from floor and high surfaces. Removable battery pack eliminates downtime and simplifies the charging process. Safety-tested for highest quality standards. Base legs adjust easily and lock securely into open position with the padded shifter handle.Total pinch-point protection covers all moving parts for added safety.
Manual lowering for instant response to power loss
Padded swivel bar with 360 degrees rotation and six-point hookup allows use of Invacare chain-free slings as well as older-style slings with chains or straps. Covered base provides protection against wear, dirtand moisture.